EnRICH Team: Enhancing Research Impact in Child Health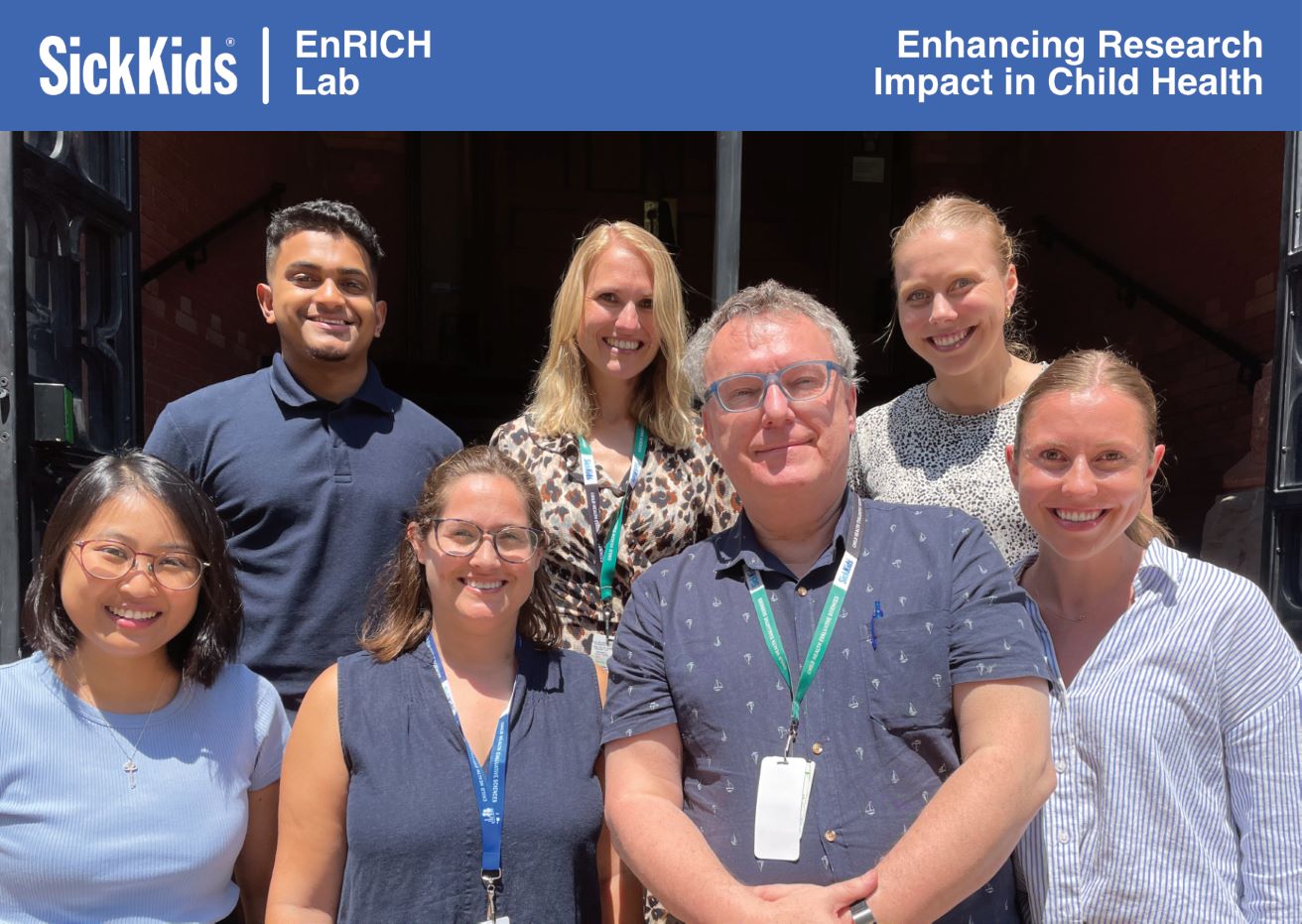 The EnRICH Lab in 2023: Front row, left to right: Ami Baba, Andrea Chiaramida, Martin Offringa, Emma Stallwood. Back row, left to right: Adrian Sammy, Ellen Elsman, Lisa Stallwood.
SickKids' Principal Investigator Dr. Martin Offringa's program of research is captured under the Enhancing Research Impact in Child Health (EnRICH) program.
In 2023, health research is questioned by the public. Does it really advance health and improve health outcomes? Are the efforts not wasted by design, conduct and reporting?
In response to these questions, new initiatives in partnership with patients, researchers, policymakers and other key stakeholders are underway. They all aim to strengthen the research enterprise and improve the quality and usefulness of scientific studies in biomedicine and beyond.
Clinical research in children poses particular methodological, ethical and practical challenges. In the last 10 years, the paucity of safety and efficacy data informing the rational use of medicines has been recognized. New regulations have been implemented in the USA and in Europe which mandate proper clinical evaluations in children before any new drug can be labelled and licensed for adults.
To inform decisions, whether at the bedside or policy level, researchers need to ensure their studies generate information that is reliable and relevant to decision makers. Current challenges include
adequate study sample sizes and contained risk of bias

qualified, responsive, and child and family relevant outcomes

short term and long-term participants' safety with clear roles of data monitoring committees and harmonized ethics review of research protocols

appropriate engagement of children and families from study design to reporting to implementation of results
And so, while more research is needed, we need to embrace new conceptual and methodological advances in the design, conduct and reporting of child health research.
The work of the EnRICH Research Group and Network aims to enhance child health through the discovery and implementation of innovative methods that transform the way we design, conduct, and report child health clinical research. In addition, the EnRICH program offers training opportunities in this field.
In 2023 the EnRICH research agenda focuses on two critical areas for paediatric research: develop and apply the methodology needed (1) to select, measure and report valid, discriminative, and feasible outcomes in child health research (see TORCH), and (2) for innovate design and conduct of clinical efficacy studies and comparative effectiveness trials: Registry Based Trials in rare diseases, Bayesian Decision Analysis, Value of Information (see SPOR projects).
In addition, in 2023 we are developing six research reporting standards, and will design and conduct a trial comparing various formats of getting (plain language) recommendations on reducing the burden of COVID19 to youth aged 12-18 years.
For an overview of current projects, click here.
Updated July 2023