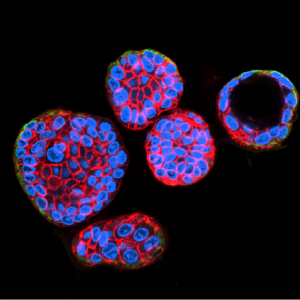 Confocal micrcoscopy images of human intestinal organoids stained for E-Cadherin in red, Keratin-18 in green, and cell nuclei in blue.
For Researchers
The Program for Individualized CF Therapy is a collaboration between Cystic Fibrosis Canada, SickKids Foundation and The Hospital for Sick Children to develop a nationally accessible resource that will accelerate the development of precision medicine for the treatment of each individual living with Cystic Fibrosis.
The program is generating model cell systems from 100 CF patients to be accessed by the CF research community. Sequencing data on these same patients, cell-based functional assay expertise and clinical research knowledge will support advancement of therapeutic candidates discovered or validated with these systems to the clinic. Explore the CFIT Program through the links below:
Remembering Peter Durie
August 2018 – Peter Durie was a giant in Cystic Fibrosis research who played an essential role in the CF gene discovery and in shaping our current understanding of the complexity of Cystic Fibrosis ‐ we will miss our friend and colleague.