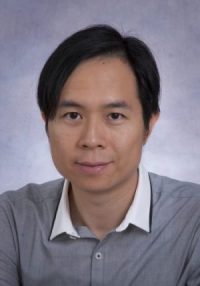 Dr. Ryan K.C. Yuen – Principal Investigator
Scientist, Genetics & Genome Biology, The Hospital for Sick Children (SickKids)
Assistant Professor, Department of Molecular Genetics, University of Toronto
Ryan received his PhD with Dr. Wendy Robinson at the University of British Columbia in 2011, investigating the epigenetics of human fetal and placental development. His postdoctoral research with Dr. Stephen Scherer (at SickKids Research Institute) primarily focused on exploiting whole genome-scanning methodologies to dissect the underlying genetic architecture in autism spectrum disorder and related neurodevelopmental conditions. His current major research focus is to develop novel disease gene discovery strategies, effective diagnostic approaches and better treatments for brain related disorders.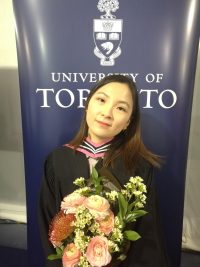 Yue (Anita) Yin – Data Analyst
Anita completed her B.Sc. in Cell & Molecular Biology specialist program and Applied Statistics minor program from University of Toronto (Scarborough) in 2016. During her B.Sc., Anita completed her first co-op work-term in a research team focusing on reproductive health and developmental diseases at BGI-Shenzhen in China. Then she finished the second work-term in the Heon Lab at SickKids, studying inherited eye disorders. In 2017, Anita received her M.Sc in Biostatistics from University of Toronto. During her M.Sc., Anita worked on a practicum project, co-supervised by Dr. Sondheimer and Dr. Strug, where she modeled nuclear DNA and the mtDNA misalignment effect on Type 2 Diabetes. Anita joined Yuen Lab in the summer of 2017 as a Data Analyst. She mainly focuses on statistical analyses of NGS sequencing data and data management for the lab. In her spare time, Anita enjoys exploring different brunch places and watching movies.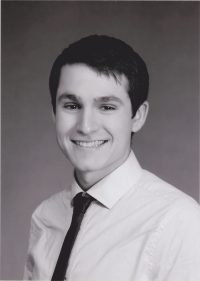 Ian Backstrom – Research Technologist
Ian Backstrom graduated from the University of British Columbia in 2016 with a B.Sc. in Microbiology and Immunology. During his undergraduate program, he worked as a co-op student at the UBC Wine Research Centre, genotyping yeast used in wine production, and at the BC Cancer Research Centre, studying gene knock-downs as chemosensitizers and exploring effective delivery methods for copper-complexed drugs to tumor cells. After graduating, Ian began work as a biological technician at Precision Nanosystems Inc., where he helped provide biological endpoint data to determine the toxicity and delivery efficacy of company-made liposomes. After a move to Toronto, Ian started his current position as a research technologist in the Yuen lab. In addition to his scientific endeavors, Ian is a classically trained singer having worked with opera, operetta, and musical theatre companies throughout Toronto and Vancouver. During his free time Ian enjoys hiking, hanging out with his dog, and playing the piano.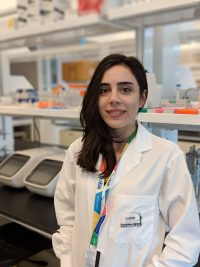 Dr. Bahareh Adhami-Mojorad – Post-Doctoral Research Fellow
Bahareh completed her B.Sc. and M.Sc. in Biotechnology at University of Tehran, Iran. She then joined the laboratory of Dr. Laurence Pelletier at the University of Toronto's Department of Molecular Genetics. During her PhD, Bahareh studied the molecular mechanisms underlying the pathogenesis of ciliopathies, and described a proximity interaction landscape of centriolar appendage proteins. In 2018, Bahareh joined the laboratory of Dr. Ryan Yuen at SickKids to study neurodevelopmental and neurological disorders using whole genome sequencing data from patients. When not in the lab, Bahareh enjoys listening to music and watching movies.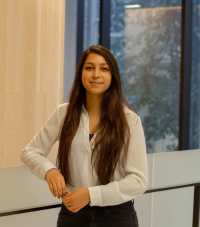 Mahreen Khan – Graduate Student
Mahreen completed her B.Sc. in the Human Biology Genetics program at the University of Toronto, and is currently pursuing her M.Sc. in the Department of Molecular Genetics at UofT under the supervision of Dr. Ryan Yuen and Dr. Christopher Pearson. She is interested in identifying genetic modifiers of tandem repeat expansions through next-generation and long-read sequencing in addition to in vitro experiments. In her free time, Mahreen enjoys binging Netflix shows, trying new amateur home-cook recipes, and showing off pictures of her dogs.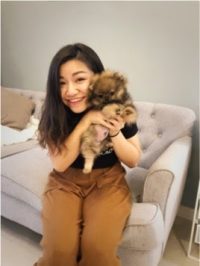 Charmaine Lau – Assistant Research Technologist
Charmaine is a current undergraduate student at UofT, pursuing a double major in Molecular Genetics and Developmental & Stem Cell Biology. She is interested in genetics and gene/cell therapy research. She was a research assistant for the Eubanks lab at the Krembil Research Institute during first and second year, but is really just starting out in science! In her free time she likes to cook, bake, sing, and snuggle with fur babies.
Michael Wong
– Research Student
Michael is currently in his final year as an undergrad student at the University of Toronto. Michael has worked with the Yuen Lab for two years creating machine learning models to characterize short tandem repeat polymorphism. His background is in software engineering with interests in data, machine learning and healthcare. His past experiences includes building data analytics solutions for business revenue at IBM, working on demand forecasting systems at Amazon, and creating medical text prediction models at One Medical. Outside of school, Michael spends his time enjoying the outdoors. He often goes hiking/camping in the summer and skiing in the winter.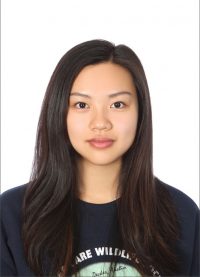 Elisa Guo
– Research Student
Elisa Guo is a third-year student at the University of Waterloo pursuing a degree in Biology. Currently, she is working in the Yuen lab as a co-op student. She is excited to learn about genomic sequencing techniques and apply them to research projects. In her previous co-op term, Elisa worked as a research assistant in a microbiology lab at Agriculture and Agri-Food Canada, studying the anti-microbial properties of fruit pomace in chicken feed. She has also worked as a chemistry teaching assistant at the University of Waterloo. After she graduates, she hopes to work in a lab or clinical setting. Outside of work, Elisa enjoys skiing, hiking, and painting.
Lab alumni
Charlotte Nguyen – M.Sc. Graduate (2019)
Farah Qaiser – M.Sc. Graduate (2020)
Alona Dov – Graduate Student
Induja Chandrakumar – Undergraduate Student
Isabella Gallello – Undergraduate Student
Ana Jung – Undergraduate Student
Ching Yeung Lam – Undergraduate Student
Jady Liang – Undergraduate Student
Lebo Wang – Undergraduate Student
Stephanie Nguyen – Volunteer
Cherith Somerville – Volunteer