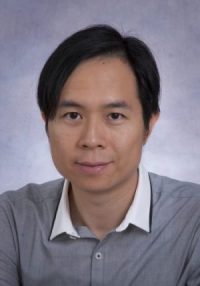 Dr. Ryan K.C. Yuen – Principal Investigator
Senior Scientist, Genetics & Genome Biology, The Hospital for Sick Children (SickKids)
Assistant Professor, Department of Molecular Genetics, University of Toronto
Ryan received his PhD with Dr. Wendy Robinson at the University of British Columbia in 2011, investigating the epigenetics of human fetal and placental development. His postdoctoral research with Dr. Stephen Scherer (at SickKids Research Institute) primarily focused on exploiting whole genome-scanning methodologies to dissect the underlying genetic architecture in autism spectrum disorder and related neurodevelopmental conditions. His current major research focus is to develop novel disease gene discovery strategies, effective diagnostic approaches and better treatments for brain related disorders.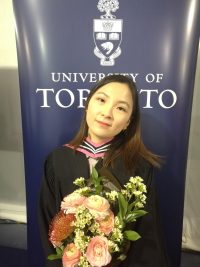 Yue (Anita) Yin – Data Analyst
Anita completed her B.Sc. in Cell & Molecular Biology specialist program and Applied Statistics minor program from University of Toronto (Scarborough) in 2016. During her B.Sc., Anita completed her first co-op work-term in a research team focusing on reproductive health and developmental diseases at BGI-Shenzhen in China. Then she finished the second work-term in the Heon Lab at SickKids, studying inherited eye disorders. In 2017, Anita received her M.Sc. in Biostatistics from University of Toronto. During her M.Sc., Anita worked on a practicum project, co-supervised by Dr. Sondheimer and Dr. Strug, where she modeled nuclear DNA and the mtDNA misalignment effect on Type 2 Diabetes. Anita joined Yuen Lab in the summer of 2017 as a Data Analyst. She mainly focuses on statistical analyses of NGS sequencing data and data management for the lab. In her spare time, Anita enjoys exploring different brunch places and watching movies.
anita.yin@sickkids.ca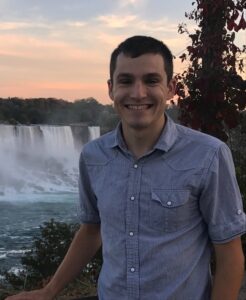 Ian Backstrom – Lab Manager/Research Technologist
Ian Backstrom graduated from the University of British Columbia in 2016 with a B.Sc. in Microbiology and Immunology. During his undergraduate program, he worked as a co-op student at the UBC Wine Research Centre, genotyping yeast used in wine production, and at the BC Cancer Research Centre, studying gene knock-downs as chemosensitizers and exploring effective delivery methods for copper-complexed drugs to tumor cells. After graduating, Ian began work as a biological technician at Precision Nanosystems Inc., where he helped provide biological endpoint data to determine the toxicity and delivery efficacy of company-made liposomes. After a move to Toronto, Ian started his current position as a research technologist in the Yuen lab. In addition to his scientific endeavors, Ian is a classically trained singer having worked with opera, operetta, and musical theatre companies throughout Toronto and Vancouver. During his free time Ian enjoys hiking, hanging out with his dog, and playing the piano.
ian.backstrom@sickkids.ca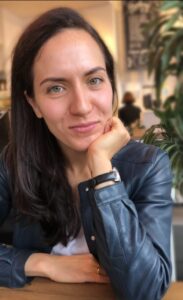 Dr. Sasha Mitina – Research Fellow

Sasha obtained her Master's degree from the Faculty of Bioengineering and Bioinformatics at the Lomonosov Moscow State University and her PhD from the Center for Life Sciences at Skolkovo Institute of Science and Technology in Moscow. In her thesis work under supervision of Prof. Philipp Khaitovich, she investigated the role of breast milk lipid composition in postnatal brain development as well as molecular changes underlying the evolution of the human brain. Sasha joined the Yuen Lab in September 2021 as a Research Fellow to study the role of tandem repeat expansions in human neurological disorders.
sasha.mitina@sickkids.ca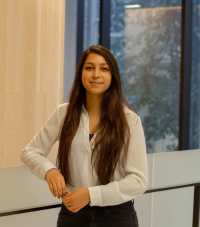 Mahreen Khan – PhD Candidate

Mahreen completed her B.Sc. in the Human Biology Genetics program at the University of Toronto, and is currently pursuing her PhD in the Department of Molecular Genetics at UofT under the supervision of Dr. Ryan Yuen and Dr. Christopher Pearson. She is interested in identifying genetic modifiers of tandem repeat expansions through next-generation and long-read sequencing in addition to in vitro experiments. In her free time, Mahreen enjoys binging Netflix shows, trying new amateur home-cook recipes, and showing off pictures of her dogs.
mahreen.khan@sickkids.ca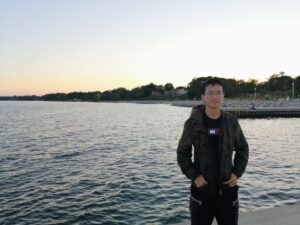 Muyang (Farren) Cheng – PhD Candidate

Muyang completed his B.Sc. in Biochemistry and Cell Biology at the Hong Kong University of Science and Technology and is currently in pursuing his PhD in the Department of Molecular Genetics. He is currently working on identifying the genetic modifiers of the 22q11.2 deletion and 7q11.23 duplication syndrome that lead to schizophrenia among other diverse disease phenotypes. Muyang enjoys solving jigsaw puzzles during his free time, particularly those of natural scenery.
farren.cheng@sickkids.ca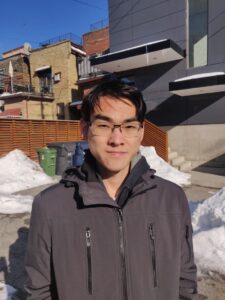 Yankai (Kevin) Wu
– M.Sc. Candidate
Kevin completed his B.Sc. in Molecular Biology and Biotechnology at the University of Toronto Scarborough in 2021, and is now working in the Yuen Lab to complete his M.Sc. in the Department of Molecular Genetics at UofT. He is currently involved in the curation of a human tandem repeat database and the design of a web interface that will allow users to visualize and access information regarding the properties of tandem repeats, such as repeat expansion range and association to known diseases. In his spare time, Kevin enjoys playing random notes on his guitar in the hopes that somewhere a melody will form, and he also likes drifting around in local Asian supermarkets to browse for expensive snacks that he would never buy.
kevin.wu@sickkids.ca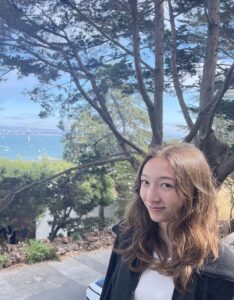 Gwyneth Bolter – Co-op Student

Gwyneth is pursuing her H.B.Sc in Molecular Biology & Genetics at McMaster University. Gwyneth joined the Yuen Lab to learn more about genome sequencing, as well as the molecular mechanisms behind neurological disorders. She is especially interested in how we can utilize our knowledge of the genome and genome editing to provide better diagnosis and/or treatment for diseases. Outside of the lab, Gwyneth enjoys watching movies and buying overpriced coffees.
gwyneth.bolter@sickkids.ca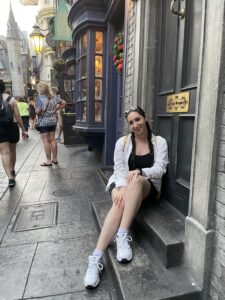 Sofia Gentile – Undergraduate Summer Student

Sofia completed her B.Sc. in Molecular Biology and Genetics at McMaster University in April 2023. Her undergraduate thesis under Dr. Elizabeth McCready focused on assessing the utility of analyzing secondary variants in patients with known recurrent CNVs and neurodevelopmental phenotypes. She is hoping to start her M.Sc. in the Department of Molecular Genetics at the University of Toronto this fall, and expand her knowledge on genetic variants underlying neurodevelopmental phenotypes, with the hopes of bettering treatment and diagnostics for these disorders. Outside the lab, Sofia enjoys reading, watching movie musicals, completing puzzles, and hanging around friends and family.
sofia.gentile@sickkids.ca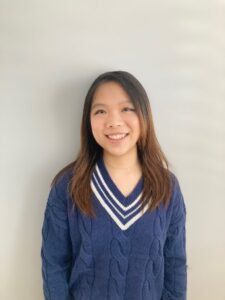 Chelsea Wong – Undergraduate Summer Student

Chelsea is pursuing her H.B.Sc. in Biochemistry at the University of Toronto. She is interested in learning more about genetics and gene/cell therapy research in the Yuen Lab. Outside of the lab, Chelsea enjoys listening to music and playing tennis.
chelsea.wong@sickkids.ca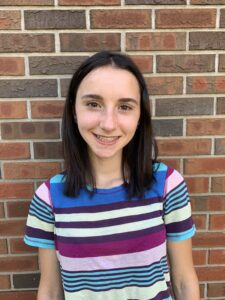 Juliana Concini – Undergraduate Summer Student

Juliana is currently in her first year at the University of Toronto in the Life Science program. She will be declaring a more specific program of study at the end of this year. Juliana joined the Yuen Lab to learn more about how genetic variants can cause disease and the ways in which these variants can be detected. Outside of the lab, Juliana enjoys playing soccer, running, and reading.
juliana.concini@sickkids.ca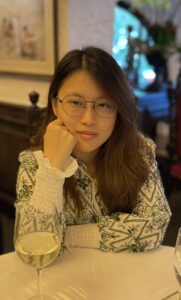 Hoi Lam (Phoenix) Doong – Volunteer

Phoenix is a newcomer to Toronto. She completed her B.Sc. in Biological Sciences at the University of Hong Kong and has been a genetic assistant in Hong Kong for 2 years.
Apart from providing genetic counselling to rare disease patients, she also helped in a parental mosaicism project and Hong Kong Genome Project. She hopes to continue helping genetic disease patients with variants analyses and short tandem repeats studies. In her spare time, she likes going road trips and photography.
hoilam.doong@sickkids.ca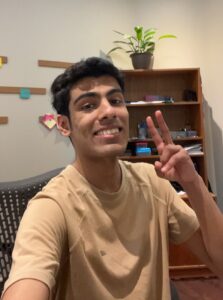 Akhil Kumar – Volunteer

Akhil is an undergraduate student in Toronto, interested in Statistics and Applied Mathematics. He is interested in learning more about genetics, tandem repeats, and genetic databases and is working on plugins to visualize genetic data on web interfaces. Outside of the lab, Akhil enjoys hanging out with friends and going out for runs.
Lab alumni
Dr. Bahareh Adhami-Mojorad – Research Fellow
Charlotte Nguyen – M.Sc. Graduate (2019)
Farah Qaiser – M.Sc. Graduate (2020)
Elisa Guo – Assistant Research Technologist
Linda Pallotto – Assistant Research Technologist
Alona Dov – Graduate Student
Angela Ng – Undergraduate Student
Robin Yuen – Undergraduate Student
Eric Kim – Undergraduate Student
Layla Ahmed – Undergraduate Student
Bushra Haque – Undergraduate Student
Jenny Du – Undergraduate Student
Charmaine Lau – Undergraduate Student
Induja Chandrakumar – Undergraduate Student
Michael Wong – Undergraduate Student
Isabella Gallello – Undergraduate Student
Ana Jung – Undergraduate Student
Ching Yeung Lam – Undergraduate Student
Jady Liang – Undergraduate Student
Lebo Wang – Undergraduate Student
Ting Chen (Elinor) Yao – Volunteer
Neta Pipko – Volunteer
Stephanie Nguyen – Volunteer
Cherith Somerville – Volunteer