Our lab has three main research interests
Leveraging our pre-clinical human lung models, our research program aims to:
Understand the molecular and cellular mechanisms regulating human lung development
Utilize this new knowledge to identify molecular/cellular basis of pulmonary diseases
Design and test new therapies to treat congenital (CF) and acquired (COVID-19) lung diseases
Our powerful collaborations with clinicians and basic scientists alike, as well as our access to over 100 primary and iPSC lines and primary tissues will enable us to focus on precision modeling and precision medicine.
Lung Development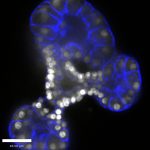 Our goal is to understand the regional and temporal development of the human lung epithelium. This will provide insight to improve our stem cell models of the lung and generate more clinically relevant tissues for regeneration. We use a combination of human primary fetal lung and stem cell-derived lung tissues with particular focus on the role of ion channels in epithelial formation during key stages of lung development.
Disease Modelling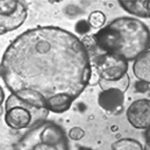 We are leveraging our human stem cell models of lung to evaluate new small molecule therapeutics (drugs) to treat individual CF (personalized medicine). We are also using these models to understand COVID-19 disease pathogenesis. We are comparing SARS-CoV-2 infection in lung and kidney organoids derived from iPSC to determine differences between infection responses in these tissues and between male and female cells.
Regeneration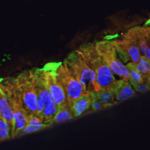 We are tackling through multiple approaches. First, we are testing new gene delivery platforms to deliver wild-type CFTR in our CF lung models. Next, we are employing CRISPR-based gene editing tools to evaluate alternative gene-targeting approaches (ie. high jacking other chloride channels) to treat CF. Finally, our continued interest in developing better de novo human lung mimetics for better disease modeling and therapy discovery has led to multiple interdisciplinary collaborations across multiple academic research institutes and the National Research Councils.