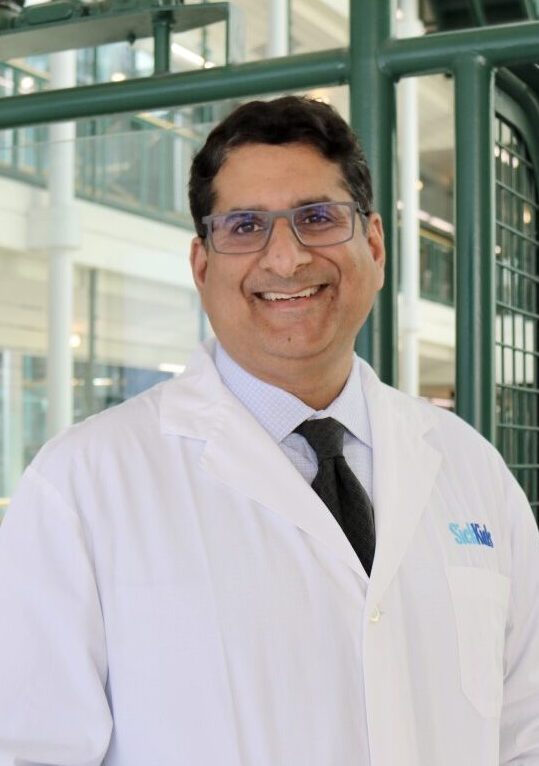 Dr. Farid Mahmud is currently Staff Physician in the Division of Endocrinology, Department of Paediatrics and Associate Professor at the University of Toronto and Associate Scientist at The Hospital for Sick Children Research Institute. Dr. Mahmud received his medical degree at The University of Alberta, Edmonton, and trained in Paediatric Endocrinology and Metabolism at The Mayo Clinic, Rochester, Minnesota, USA. Dr. Mahmud's overall research focus is diabetes, clinical and translational research, relating to co-morbid autoimmune conditions and early evaluation and prevention of diabetes-related complications.
His research interests include:
Evaluation of Medication and Lifestyle Interventions in high-risk Paediatric Groups
Study of Novel Adjunctive Therapies in Type 1 Diabetes
Assessment of Co-Morbid Autoimmune Conditions including Celiac Disease and Type 1 Diabetes
Evaluation of Social Determinants of Health in Type 1 Diabetes
Dr. Mahmud is an accomplished clinician investigator with over $10M in direct (PI) and Collaborative research funding and >80 publications as well as previous and ongoing mentorship of students and fellows as part of his research program. He is actively engaged in patient-centered research endeavours as part the CIHR Strategies for Patient Oriented Research (SPOR), and as part of the AdDIT and ATTEMPT clinical trials. Dr. Mahmud is part of the Institute of Medical Science (IMS) at University of Toronto and can supervise graduate students interested in clinical research.
My overall research focus is diabetes, clinical and translational research, relating to co-morbid autoimmune conditions and early evaluation and prevention of diabetes related complications through medication and lifestyle interventions. As an autoimmune disease, diabetes is a chronic and unrelenting disease associated with significant morbidity and morbidity relating to early micro-vascular disease impacting organs including the eyes and kidneys as well as premature cardiovascular disease (CVD).
My research program is based upon key themes:
1) Cardiorenal Disease; Observational and Intervention Trials: Evidence is overwhelming that micro-vascular disease complications has its origins in childhood and it is critical that we learn and understand the onset and progression of this process during adolescence. Furthermore, evaluation of lifestyle and or pharmacologic strategies and clinical trials to delay or defer clinical or indirect evidence of disease progression are needed to reduce the burden of disease morbidity and mortality seen in adulthood. As part of an international, double-blind, randomized control trial, I serve as Principal Investigator of the Adolescent Diabetes Cardio-Renal Intervention Trial (AdDIT) in Canada (SickKids, PI Mahmud). This trial has studied the impact of medication intervention strategies using ACE (Angiotensin Converting Enzyme) inhibitors, alone or in combination with lipid lowering statins versus a placebo in a large cohort of teenagers aged 10-17 years. As part of this study we have evaluated early markers of diabetes related renal and cardiac disease. We have alsoe been funded (CAN-SOLVE CKD) to follow this cohort into young adulthood to assess onset and progression of these complications. I also serve as PI of a study to evaluate the impact of Sodium Glucose Co- transporter (SGLT2) inhibitors on hyperfiltration during adolesence in type 1 diabetes as part of a large, multicentered trial (ATTEMPT, Adolescent Type 1 diabetes Treatment with SGLT2i for hyperglycEMia & hyPerfilTration Trial). This study will evaluate multiple other secondary outcomes, including activity and renal perfusion.
2) Assessment of Comorbid Autoimmune Conditions: Impact of Celiac Disease and Type 1 Diabetes. I have also designed and serve as PI of a dietary intervention study (Celiac Disease and Diabetes-Dietary Intervention and Evaluation Trial, CD-DIET)(PI Mahmud). CD-DIET is a multi-center clinical trial across Ontario involving children and adults aged 8-45 years with type 1 diabetes. In addition to the extension study, CD-LiFE.
3) Evaluation and Impact of Diabetes Data; Impact of Health Disparities on Diabetes Outcomes: Knowledge of clinical data is key for any practice to self assess and improve and the evaluation of non-traditional risk factors, such as the impact of Social Determinants of Health to improve the care we are able to provide is a key area of research interest.
4) Advocacy and Engagement: As a clinician, I have a responsibility to share in the translation of optimal clinical research to improve clinical diabetes outcomes locally, regionally and internationally. I serve as co-chair of the Quality Standards Committee for the Ontario Pediatric Diabetes Committee as well as an Advisory Board Member for the International Society for Pediatric and Adolecent Diabetes (ISPAD).