Our clinical research imaging lab focuses on the development and clinical application of new and advanced echocardiographic and vascular ultrasound techniques.
We perform full anatomical echocardiograms to assess the structure, function and hemodynamics of the heart in children with and without congenital heart disease. We introduced the innovative concept of functional pediatric echocardiography that uses advanced echocardiographic equipment for the analysis of cardiac function. In addition to comprehensive assessments of ventricular systolic and diastolic function, we include additional techniques like colour tissue Doppler analysis, three-dimensional echocardiography, myocardial and atrial strain imaging. We operate a busy exercise echo program that is quite unique in the paediatric population. We perform stress echocardiograms on children during exercise on a supine bicycle to assess their cardiac adaptation to stress while monitoring their electrophysiology, blood pressure response and oxygen consumption. We also perform fetal echocardiograms and cutting-edge techniques including blood speckle imaging, mechanical wave imaging, high frequency ultrasound and ultrafast ultrasound.
Colour Doppler image demonstrating total anomalous pulmonary venous drainage to a vertical vein.
Circumferential strain analysis performed on the basal level of the left ventricle.
Four chamber view of Ebstein anomaly of the tricuspid valve.
Blood speckle imaging on a neonate of the left ventricular inflow and outflow tract.
Vascular imaging and assessment
We acquire ultrasound images of the blood vessels of the body to study the interactions between them and the pumping of the heart. This interaction, termed ventricular-arterial coupling, is a key determinant of cardiovascular performance. Adults with abnormal arterial stiffness and a mismatch between ventricular and arterial stiffness have been found to have a greatly increased risk of cardiovascular disease. We study the interactions between blood vessel function and the contractility of the heart using advanced ultrasound techniques.
PWV: Pulse Wave Velocity. Evaluation of arterial stiffness using applanation tonometry.

FMD: Flow Mediated Dilatation. We use Brachial Artery ultrasound for the assessment of endothelial function.

CIMT: Assessment of Carotid Intima Media Thickness and carotid artery distensibility.

High Frequency Ultrasound: Evaluate smaller bloods vessel structure.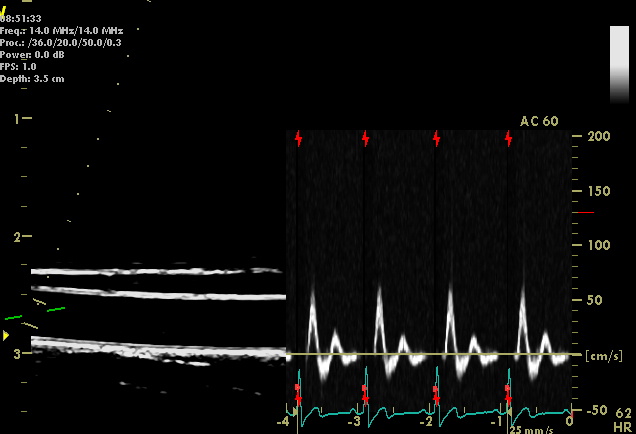 Assessment of the brachial artery, Flow Mediated Dilatation (FMD)
Radial artery imaging using Visualsonics, High Frequency Ultrasound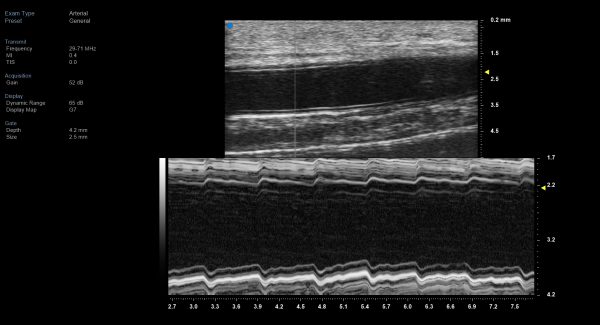 Radial artery M-Mode image using Visualsonics, High Frequency Ultrasound