The Friedberg experimental lab investigates mechanisms of right ventricular dysfunction, fibrosis, mechano-transduction and ventricular-ventricular interactions in in vivo and in vitro models of pulmonary hypertension and right ventricular pressure and volume loading. We investigate how to harness these mechanisms for therapeutic benefit. We use a diverse tool-kit including animal models, high-frequency echocardiography, conductance catheter hemodynamics, immunohistochemistry, tissue and cell-culture studies and genetically modified animal and cell models.
Mechanisms of ventricular-ventricular interactions in right ventricular pressure-loading
Mechano-transduction in right ventricular pressure-loading
Modulation of TGFb signaling to ameliorate right-ventricular fibrosis and dysfunction
Temporal and regional right-ventricular remodeling
Epigenetic regulation of right-ventricular remodeling
Stem-cell therapy for the failing right-ventricle
Mechanisms of right-ventricular inefficiency in pulmonary hypertension
Modulation of right-ventricular function using pulmonary artery biografts
Immune modulation of right-ventricular fibrosis
Right-ventricular electro-mechanical dyssynchrony in repaired tetralogy of Fallot
Machine learning to delineate risk factors for adverse outcomes in childhood cardiomyopathy
Ultrasound image of a mouse heart.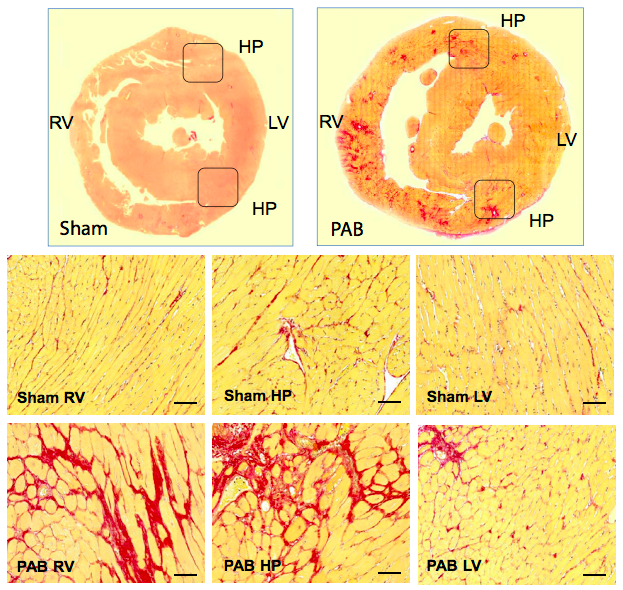 Representative Picrosirius red (PSR) staining of rat hearts 6 weeks after sham and pulmonary artery banding (PAB) procedures. PSR staining demonstrates that PAB-induced right ventricular (RV) pressure load is associated with a remarkable accumulation of PSR-positive collagen and myocyte hypertrophy in the RV and septal hinge-point (HP) regions. Courtesy of Sun et al., J Am Heart Assoc. 2018.
Friedberg Lab team
Principal investigator: Dr. Mark Friedberg
Lab manager: Mei Sun, MD, PhD
Graduate students: Elizabeth Kim; John Dauz
Post-doctoral fellows: Theo Meister, MD, PhD; Sonja Raschzok, MD, Kana Yazaki, MD