Within the Cardiovascular Ultrasound Lab, there are several imaging labs. Explore each of them below!
Our laboratory welcomes new investigators who wish to utilize our cardiovascular ultrasound services in their research projects. If you are interested, please fill out the intake form and email it to CVUS.research@sickkids.ca.
Clinical Studies
| Study title | Study objective |
| --- | --- |
| AdDIT | Multi-center study to investigate subclinical signs of cardiovascular disease in children, adolescents and adults with Type 1 Diabetes |
| ATTEMPT | Adolescent Type 1 diabetes Treatment with SGLT2i for hyperglycEMia & hyPerfilTration Trial |
| AVSD | Multi-center study of neonates born with complete AVSD to determine the optimal surgical treatment and outcomes |
| BRAF (GSK) | Multi-center study to determine safety and tolerability of Dabrafenib in children and adolescents with advanced solid tumors |
| Controls | Establishment of normal values of echocardiography ventricular and vascular function |
| GENOME | To recruit and study parents of children with CHD |
| MEK (GSK) | Multi-center study to investigate safety and clinical activity of Trametinib in children and adolescents with Cancer or Plexiform Neurofibromas |
| MUSIC | Long-TerM OUtcomes after the Multisystem Inflammatory Syndrome In Children |
| Pediatric Heart Network. DO-IT | Multi-center study to investigate vascular function in Dyslipidemia of Obesity Intervention in Teens |
| PCS2 | Multi-center study to investigate novel approaches to the prediction, diagnosis and treatment of cardiac late effects in survivors of childhood cancer |
| SINGLE VENTRICLE EXERCISE | To assess ventricular function in adult Fontan patients during exercise |
| TOF-LIFE | Multi-center study to determine the association between baseline cardiac morphology, surgical repair technique and RV physiology and morphology in patients undergoing cardiac surgery for TOF |
Longitudinal strain analysis of a left ventricle with hypertrophic cardiomyopathy.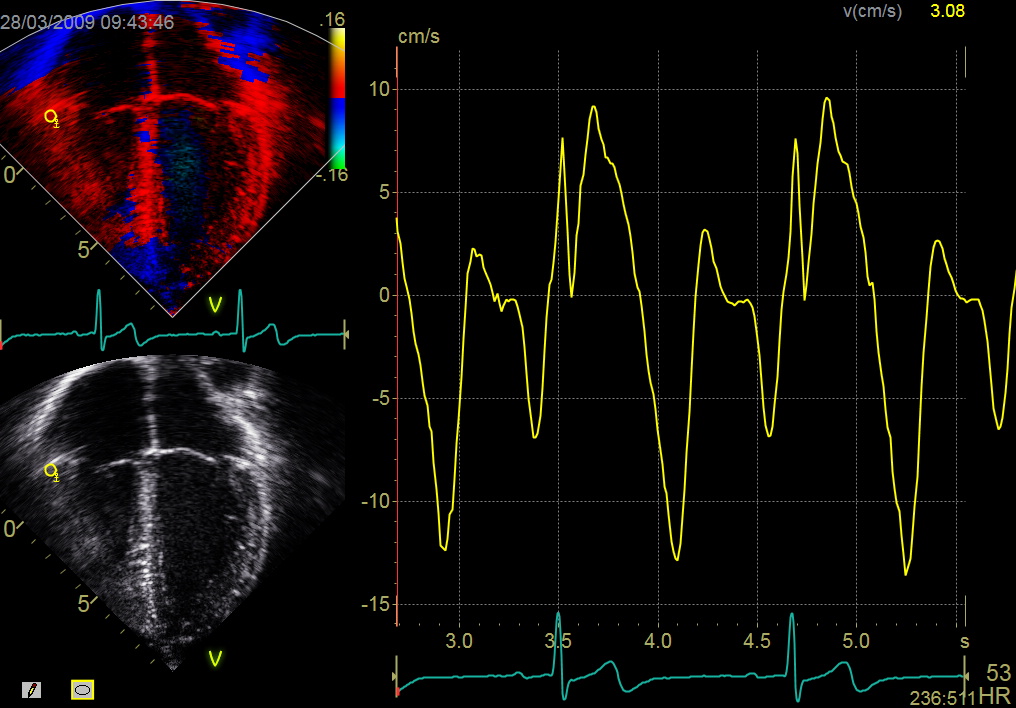 Assessment of tissue velocities and wave-forms using colour tissue Doppler imaging.
Three-dimensional echocardiography of a prosthetic tricuspid valve with retracted leaflets.
Left ventricular ejection fraction calculation using three-dimensional imaging.
Pre-Clinical Studies
Study title
Study objective

Myocardial Perfusion in a HLHS mice model (

collab

. John Sled)

To investigate the myocardial perfusion in a hypoplastic left he

a

rt syndrome model at the 

fœtal

 stage and just after birth.

Myocardial stiffness and perfusion of the right ventricle. Rat PAH models

To assess the evolution of myocardial stiffness and 

microperfusion

 of the right ventricle according to models of volume overload (free PI) or pressure overload (PA banding).

Ult

rafast imaging exploration of 

a pig heart infarct model with stem cells injection. (

collab

. Mike 

Laflamme

)

 

To investigate the roles of the direct and indirect mechanisms underpinning the improved heart function observed after injecting new cardiac cells into an infarct scar.

 

Optimizing cerebral perfusion us

ing brain ultrafast ultrasound i

maging in a rodent extracorporeal circulation model (

collab

. 

Christoph

 Haller)

To quantify alterations in cerebral blood flow before, during and after different cardiopulmonary bypass modalities.

Ultrafast ultrasound imaging – kidney studies – Mice model. (

collab

. Darren Yuen)

 

To explore the 

potential

 of ultrafast imaging for the kidney stiffness assessment and the 

microperfusion

 assessment.