OUR MISSION
We aim to discover basic mechanisms that control gene expression and epigenetic reprogramming. We strive to apply this knowledge through manipulation of induced pluripotent stem (iPS) cells to model human disease and test potential therapies for personalized medicine.


James Ellis, PhD
Senior Scientist
Research Integrity Advisor
Developmental & Stem Cell Biology

The Hospital for Sick Children (SickKids)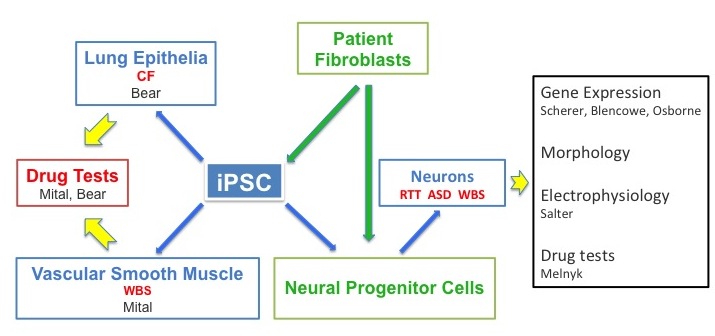 Ongoing research in our group centres on disease modeling and drug screening using induced Pluripotent Stem (iPS) cells. Initially we used a novel EOS reporter vector to reprogram patient fibroblasts into iPS cells. Next, neural progenitor cells (NPC) are generated to produce neurons for defining phenotypes and expression patterns with our colleagues that are related to Rett syndrome (RTT), autism spectrum disorder (ASD) and Williams-Beuren syndrome (WBS). Direct conversion of patient fibroblasts into iNPCs for this purpose is also being explored.
We also collaborate with the Mital lab to evaluate the vascular smooth muscle phenotype of WBS, and with the Bear lab to investigate the lung epithelial phenotype in cystic fibrosis (CF). Drug testing is then performed to rescue the patient-specific in vitro phenotypes.
Overall, our goal is to utilize reprogramming technology to repurpose or identify novel drugs for personalized medicine.